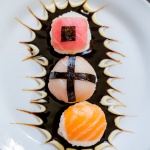 Print
Temarizushi
Beautiful and vibrant temarizushi to serve as an appetizer or for your sushi party. Use various sashimi type and vegetable to add more colors to your dish.
1

slice

of each: salmon

tuna, hamachi

6

spoonful of seasoned sushi rice

nori for decoration

plastic wrap
Get a large enough plastic wrap to place over your hand.

Swoop 2 spoonful of sushi rice onto your palm.

Close your hand to have plastic wrap cover rice ball, twist a little to form into ball shape.

Repeat to make remaining rice ball.

Now get another clean piece of plastic.

Place 1 sashimi onto plastic wrap, then top with a rice ball.

Wrap the ball/sashimi, hold, press and twist the plastic wrap.

Round ball shape will be formed now, just unwrap and place temari ball onto serving plate.

Repeat for remaining rice balls.

Decorate with cut out nori or garnishment.