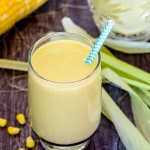 Print
Recipe for Corn milk
Naturally sweet and creamy corn milk that could be served both hot and cold. Try this drink with soaked nuts, coconut and pandan for extra fancy flavors.
4

large corn ears w/ husk

shank, silk...

3

cups

water

1

cup

soy milk

almond milk or whole milk

3/4

cup

soaked or roasted unsalted peanut or almond

optional 1 pandan leaf and 1 small coconut

a few grains of salt
Wash the corn clean, remove dirty/black silk and old darken husk.

Separate corn from shank, husk and silk and throw them all into a large pot w/ lid. Cut the corn into halves for faster cook time.

(optional) Wash pandan leaf and cut into smaller pieces before add to pot.

(optional) Crack open the coconut, pour the juice and scrape out the flesh and add to pot.

Bring to boil and simmer until corns are done.

Remove corn husk and silk (squeeze them to extract all liquid).

Use a peeler or whatever corn gadget you have to extract all kernels.

Put kernels and everything else from pot (pandan, coconut, liquid...) into blender/food processor.

Add soaked/roasted nut to blender as well and puree.

Use a cheesecloth to strain all liquid back into pot.

Add milk and couple grains of salt to pot. Bring to boil.

Serve hot or chilly cold.