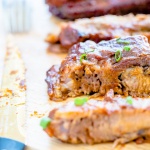 Print
Recipe for Slow cooker ribs
Caramelized sweet and tangy BBQ back ribs that are tender, juicy, deliciously fall-off-the-bone. Try this recipe to made them right from your slow cooker
For the Dry Rub
2

Tbsp

ground Dijon mustard

2

tsp

garlic powder

1

tsp

onion powder

1/2

tsp

ground pepper

1

tsp

dried thyme

2

Tbsp

sugar

1 1/2

tsp

salt

1

Tbsp

mushroom seasoning

1/4

tsp

chili powder

optional for spicy
For the BBQ Sauce
1

Tbsp

cooking oil or spray

3

cups

of your favorite BBQ sauce OR the following

1

cup

ketchup

4

cloves

garlic

1

large onion

1

tsp

grated ginger

1

pear or apple or a handful of cube pineapple

2

Tbsp

Apple cider vinegar

2

Tbsp

Worcestershire sauce

2

Tbsp

soy sauce

3

Tbsp

water

3

Tbsp

palm sugar or brown sugar

2

Tbsp

honey

1

tsp

Paprika

1

Tbsp

mustard

2

tsp

Tabasco

optional
Wash the rib and cut ribs to desired size.

Use your pinky to slip through and pull out membrane if needed, otherwise, just pierce with a fork if you want more crunch, tendon-like texture.

In a clean and dry container, combine all the dry rubbing ingredients.

Rub them good onto each side of each slab, crevice and all.

Save the extra dry rub to mix with your sauce if desired.

Preheat oven to 400 F.

Arrange rubbed ribs onto baking sheet and bake for 20 minutes with turning in between to sear all the meat and seal in flavor. This should remove some extra fat as well.

Once your ribs are all seared, remove from oven, and arrange into your slow cooker.

Arrange each rubbed and seasoned slab into your slow cooker.

Pour 2 cups of sauce (store bought or make per instruction below) all over the ribs.

Cook on low for 8 hours or high for 4 hours.
Making the sauce (skip if use store bought)
Crush garlic and chop onion.

Peel, core and blend or puree your fruit of choice (apple/pear/pineapple).

Heat sauce pan on high, when hot. swirl in 1 Tbsp cooking oil to cover the bottom or fully spray it.

Add chopped onion, stir for 2-3 minutes until light brown and start giving off aroma then add crushed garlic.

Add all remaining ingredients and puree fruit into sauce pan. Stir to mix then adjust heat to medium low.

Simmering for 10-15 minutes to reduce the sauce and make it thick.

Turn off heat and set aside to cool off. Re-blend/puree if desired.

Use this sauce to marinade your ribs, dip or save inn fridge for later uses.
Before serving or warming
Preheat oven to 400 F.

Transfer cook ribs into oven by arranging them onto baking sheet.

Brush extra BBQ sauce on them.

Bake for 5-10 minutes, then turn, brush some more sauce and bake an additional 5 minutes or until all sauce caramelized.

Remove from oven and serve while they're hot.