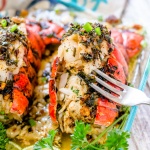 Print
Recipe for Baked Lobster Stuffed with Crab meat
Luscious lobster tail atop mouth-watering imperial lump crab meat with crispy crumb on top, seasoned with some lemon juice and dash of the finest sea salt. yum!! Bring this luxury taste to your home dinner table or set it as the star for that Christmas feast of the seven fishes
2

Maine lobster tails

8

oz

lump crab meat

4

oz

unsalted butter

4

cloves

garlic

3

stems scallion

half sprig parsley

finely mince

3

Tbsp

mayonnaise

1/3

tsp

Old bay

1/2

tsp

sugar

1

egg

1/2

lemon

3

Tbsp

bread crumbs or cracker

salt & pepper
Garlic butter lemon
Finely chop scallion, separate the white and green part.

In a sauce pan, melt 4oz butter, then stir in the white scallion part and crushed garlic, add some sprinkle or 1/4 tsp sea salt.

Stir until scallion is soften and garlic lightly golden.

Add green scallion and 1 tsp minced parsley, stir to mix then remove from heat.

Squeeze in 1 tsp lemon juice and stir.
Crab meat stuffing
Whisk egg till fluff, then add sugar, old bay, 1 tsp of finely minced parsley, 1/2 tsp lemon juice, 1 Tbsp bread crumbs, 2 Tbsp garlic butter. Mix them good.

Gently stir in lump crab meat, do not break chunks. Set aside in fridge for a couple minutes until ready to use.
Stuffed lobster
Use a scissor to cut through the back shells of lobster tails, lift the meat up while leaving the shell intact.

Preheat oven to 350 oven.

Use your fingers to push and keep lobster shell open

Divide the crab stuffing and spoon them into lobster tails, then gently press the lobster meat on top. Stationed with toothpicks if needed.

Spoon some garlic butter on top of tail meat, then sprinkle some bread crumb, salt and pepper.

Bake stuffed lobster tail in oven for 15-20 minutes until tail meat turn opaque and the stuffing underneath golden.

Serve with that same garlic butter and lemon slices on side.