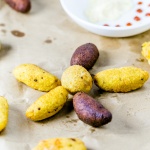 Print
Recipe for Hot Yuca root or Cassava fritter
Golden crispy cassava or yuca root fritters that are spicy and warm for this winter party. Indulgent yourself, and your party in this aromatic sensation from the East. Make batch of less spicy and let the kiddo in for some fun treat too.
Prepping cassava or yuca root
Remove skin and the outer pinkish rind of yuca roots. This can be done easily by cutting both ends, slitting a line along its body with paring knife, then use your hand to peel the shell off. The root flesh, after taking shell off, should be purely white, free of veins and line. If you still see some pink, peel deeper.

Soak yuca roots in a large water bucket for 3-4 hours or overnight. Make sure all roots are submerged under the water to prevent running veins.

Wash and rinse yuca with clean water.

In a large enough container, add 1 qt of water and 1/2 Tbsp salt, stir to dissolve. Cut or slice yuca roots thinly into this container. Don't forget to remove the hard center axis. Soak for another 20 minutes.

Strain off the brine, use your hand to squeeze off excessive water.
Making cassava fritter
Finely chop green onion.

Cut and mince chili pepper (remove seeds for mild spicy or left them there for hotter tolerance).

Throw sliced yuca along with 2 garlic cloves into your food processor and puree them.

Transfer this puree into a large enough container, then add 1/2 tsp salt, 1/2 tsp seasoning powder, 1/2 Tbsp avocado oil, 1/2 tsp sugar, 1 tsp curry powder, minced chili or chili powder, chopped green onion and 1 Tbsp all purpose flour.

If you are using protein option such as ground pork, beef or seafood, throw it in as well.

Put on your food gloves and knead to mix them well.

Depend on how wet the mixture is, add tapioca flour little by little until the mixture feel dry enough for shaping.

Apply pressure with your palms/hand to form balls or shape these fritter to your heart desire.

Use your deep fryer or a deep sauce pan, small pot, etc. to deep fry these fritter until golden crispy.

Line over parchment papers and serve hot as appetizer or party snack/finger food.