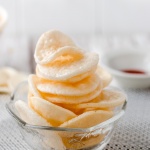 Print
Frying shrimp chips
Crispy inflated shrimp chips can be used as snacks or sides with salad, dipping sauce or appetizer container. Here are our handling methods for shrimp chips, both with deep-frying oil and oil-less.

1

pack

shrimp chips

1

qt

oil

for deep frying method
Stove top Deep-frying
Use a wok or deep large saucepan, place over medium high heat.


When pan is hot enough, pour in the frying oil.


Wait a couple minutes till oil is hot, reduce heat to medium-low then carefully drop a couple shrimp chips in to fry. Use chop sticks to dip them


When all the chips' rinds are all inflated and float up, use a chop stick to turn dip them down for a couple seconds.


Now turn them over to fry the other side evenly. Do not brown.


When done, transfer to a lined/dripping rack.

Microwave
Place 5-6 shrimp chips on a microwaveable plate.


Microwave on high power for 40 to 60 seconds. Do a couple test to have exact control over the timing as each microwave produce heat differently.