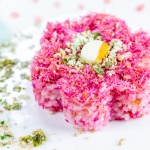 Print
Sakura denbu - the cutest fish flakes for many bento, snacks & sushi toppings
The most beautiful topping ever to amplify your bento, lunch pack, sushi, rice dish.... with a lovely shade of pink. It tastes kinda sweet with bit of saltiness and can compliment any dish easily.
1

lb

white fish fillet: cod, tilapia, halibut, bass, grouper...

2

tsp

minced white onion

1

tsp

sea salt

1/2

tsp

dashi powder

2

Tbsp

mirin

use aji mirin for non-alcoholic

1

Tbsp

sake

or rice vinegar + extra sugar + pea size ginger

4

Tbsp

sugar

natural food colorants

e.g beet or berry color powder
Transfer the fish fillets into a clean bowl, use a fork, smasher or stick blender to smash and flake them. For the juice (from the steamed fish dish), strain out all the solid (onion) and reserve this fish juice.

With a wok or large sauce pan on low heat, add the flaked fish fillets and stir constantly.

Keep stirring and flaking to break all the clumps.

Dissolve color powder or food color with the preserved fish juice. Pour this juice into damp fish flake. Less for lighter pink or more for deeper hue.

Keep stirring and applying pressure to break up clumps so that flakes look finer. Adjust taste if need.

Let air cool at room temperature before storing.