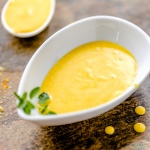 Print
Recipe for Dijon mustard substitute
Out of Dijon mustard? Take a look at this recipe to mix and make your own dijon with similar sweet-tangy and spicy taste.
Whisk and mix together all of the listed ingredients.

To add color to mustard, try to add some turmeric powder or food color if need.

Use any type of vinegar, apple and rice would work great.