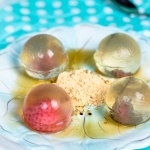 Print
Recipe for Wiggly raindrop cakes
Wiggly cool mochi that would sooth away summer thirst. Perfect for hot season, or cold too if you love that refreshing flavor.

3

g

carrageenan powder

Japanese Coolagar, Agar agar, gelatine equivalent

300

ml

distilled water

20

g

sugar

white

20

g

soy powder

for garnishing

4

Tbsp

syrup

any flavor

cherry blossom, tea flowers, cherry, etc.

decoration
Tools
silicone sphere mold, egg mold... or small bowl

small funnel that fit hole on sphere mold

toothpicks
Follow package instruction to coagulate powder or as below.


Mix agar/gelatine/carrageenan powder with sugar.


Heat water on medium setting. When water is hot but not boiling yet, pour in the powder-sugar mixture while stirring to prevent precipitation.


When all powder dissolve and the whole color became clear, it's time to pour into mold

Using silicone sphere mold
Place bottom-half mold over an icy cool water bath.


Add flowers or decorative fruits. Use a toothpick to adjust shape/position or remove any bubble.


In case of using fruit for decoration, wait a couple seconds for the jelly layer to half-set before adding the fruit. This is so that it can hold the decoration in place.


Replace and secure the other top half sphere and fill the rest through the small hole on top. If using the smaller ice cube mold, then just fill to 3/4 of the mold, and snap the top layer on top.


Let sit to cool down to room temperature. Then chill in fridge until serving.


Serve cold after 30 minutes - an hour with soy powder and some syrup.