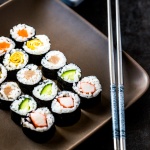 Print
Recipe for Easy Hosomaki platter
One of the most simple single-ingredient sushi roll at its very detail, take a look at this hosomaki recipe and customize to your own appetite.

Garnish & Complement
Wasabi, soy sauce, pickled ginger, etc.
Prepare a dipping water-vinegar solution to dip your hand with while working to prevent sticking. Use a 1:4 ratio (1 Tbsp rice vinegar to 4 Tbsp water).


Cook, season and prepare sushi rice, if you need more instruction, take a look at the guide on cooking sushi rice. We need about 1/2 cup cooked sushi rice for every roll.


Prepare the work area, preferably leaving your bamboo mat on a flat surface like counter or cutting board. Have plastic wrap available if you want to invert the roll.


Cut sashimi in to 1/2 x 1/2 x 4 inches sticks.


Fold a piece of nori in half, carefully tear along the folding line.


Lay the half nori on top of bamboo mat over a flat surface.


Spread 1/2 cup of seasoned sushi rice over nori leaving about 1/2 to 1 inch empty on the farther end.


Now arrange a fish stick or any other topping on top.


Carefully lift, tuck and roll. Apply pressure over bamboo mat a few time to hold the roll into shape.


Repeat for other hosomaki rolls.


Use a sharp knife to cut. You might need some damp cloth to wipe the knife off in between..


Enjoy as is or serve with pickle ginger and some hot wasabi.