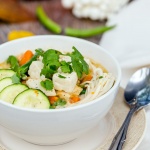 Print
Recipe for Tofu pumpkin soup
A savory mildly sweet coconut soup fully stocked with tofu, mushroom, sweet potato and pumpkin. It combines all the taste of creamy, crunchy and bland together with mesmerizing aroma. Oh, and it's 100% vegan too.
Total Time
1
hour
15
minutes
1

blocks regular firm tofu

2

oz

dried bean curd

rolled into layered stick

1

oz

dried tofu skin

leaf

1/2

small pumpkin

about 1/2 lb of flesh

1

sweet potato

1

small taro

1

medium carrot

1

zucchini

a handful of green beans

4

oz

enoki mushroom

depend on availability, substitute by any mushroom available

4

oz

straw mushroom

depend on availability, substitute by porta bella, shiitake, etc.

6

oz

unsalted peanut

a few cilantro stem w/ leaves

1

scallion stem

salt

mushroom seasoning

optional

coconut juice

coconut cream
Prep
Peanut: soak half (3oz unsalted peanut) in water 2 hours before hand.

Dried bean curd stick: soak for about 30 minutes.

Tofu: wash and cut to 1 inch cubes, let air dry on strainer/racks for 15 minutes.

Sweet potato: thick french-fry cut.

Pumpkin and taro: wash, remove skin, seed(pumpkin) and cut into small 1/2 -1 inch chunks.

Carrot: wash, remove skin, flower cut or simply cut into 1/4 " chunks.

Zucchini: wash, thickly slice.

Green bean: wash, peel off sides, cut into 2" length.

Mushroom: if you're using porta bella or shiitake, wash and slice them. If enoki and straw are available, then cut off their heads and wash.

Cilantro: finely mince.

Scallion: finely chop.

Tofu skin leaf: cut into 3"x2" strips
Deep fry method
Add oil to your deep fryer or deep sauce pan.

When oil is hot (about 3-5 minutes later), add all the sweet potato and taro chunk into the oil. Deep fry until turn lightly golden. Remove from oil and place into strained basket to drip off excess oil.

Wait 1-2 minutes after remove the yam to let the oil hot again.

Quickly add tofu skin strips and remove as they're bubbling and expanding.
Roast method
In a roasting pan, place sweet potato strip and taro chunk in the center, surrounded by tofu skin strips. Spray some cooking oil, and roast for 10-15 minutes. Checking back every 5 minutes as the tofu skin got fried much quicker.
Cooking Instruction
Add coconut juice into your stock pot. Depend on your desired thickness, adjust water to match your liquid to stock ratio.

Add soaked peanut, pumpkin, sweet potato, taro, and bean curd to stockpot and bring the mixture to boil.

Let cook for 10-15 minutes, then add tofu cube, carrot, green bean and all mushroom to stock. Seasoning with salt and mushroom powder(optional).

Add coconut cream, and stir well to mix.

Bring mixture back to boil for another 5-10 minutes (until desired softness of carrot and pumpkin).

Taste and seasoning again if need. Otherwise, sprinkle on chopped scallion and turn off heat.

Serve hot with some cilantro leaves on top. A sprinkle of ground pepper to spice thing up. Go great by itself or serve together with slices of french bread.